A chat with DJ Elye (the sunday skool drop out)
DJ Elye and I have been friends for long and I often tease him of being a DJ with no dread locks. He is a man of many talents and here is how our conversation went.
Hey DJ Elye, how's it going?
The going is good bro.
Name, age, What did you pursue in university?
My name is Elisha Bwamu, 28 years. Pursued Food Science and Technology.
Where did you grow up? And what impact did it have in your life and who you have become?
Grew up in Westlands and Kangemi. It impacted me in terms of knowing that there are people who have everything they need but don't use it and there are people who don't have anything they need but use the little to become something.
How long have you been a DJ?
I've been a Dj since 2006 haha. Class 7 . But started practicing professionally 4 years ago.
What did your parents say when you decided to go the DJ way?
They gave the okay since they knew I know what I'm doing.
Why DJ / Who is your inspiration?
It is what I usually feel when I hear good music. I have a passion for good music. My inspiration is my late brother Dj Dougie Doug.
Is being a DJ your main business or do you have another profession/career?
Deejaying is my hobby but I hope to make it my main career.
Do you have a favourite person to work with?
Yes. Dj Wolverine.
How do you get the crowd engaged, energized, and in the party spirit?
By reading them to see their preference first then giving them their medicine relentlessly.
How did you land the role you have in Club Clique?
I talked to the bosses a while back when I went there to support a dj friend and when the opportunity came, they made that call.
The largest crowd you have ever performed to and Which was the toughest crowd to perform to?
The largest crowd I've performed to is at the Fireboy DML concert. It was a Beauty pageant. The toughest crowd I've encountered were mature club revellers /bosses who did not dance but remained sitted the whole time just nodding heads.
What is your favorite genre of music?
I am an open format type of Dj but my favorite genre is Hiphop.
What do you think about Kenyan music industry now?
The industry is still struggling in terms of getting international recognition but I believe we'll get there with good content.
How has the digital age affected your craft?
I can now research easily in terms of what to do ,where to look for work , what is trending, etc.
As a DJ where do you see yourself in the next 5 years?
I see myself hosting my own events in coordination with my crew.
What has this covid period taught you in the industry?
Do not put your eggs in one basket and also save because you never know.
Does you being a DJ have an impact on your relationship if in one ?
This one I will pass haha. Though for most people it doesn't have a big impact As long as your person understands what you are doing. Time on a weekend for us is limited since we are always working.
Parting shot?
If you are passionate about something or someone, do it/them haha.
Find out why 'mutura is not a street food' as Wanjira Puts it!
Wanjira was Born and bred in New York and now lives in Kenya. She is currently a radio host for one of Kenya's biggest radio station, Capital fm. On top of that, Wanjira is a content creator, TV host, actor & writer. However, she wears many hats. Get to know her more in this interview as she opens her world to us on Vibe Yetu!
They Hooked Up With Their First Serious Boyfriends
The tall girls pod met in campus and clicked and are now doing a thing together. Get to here their story by watching this interview on our youtube channel. Remember to subscribe if you haven't.
Is Marriage Really Necessary?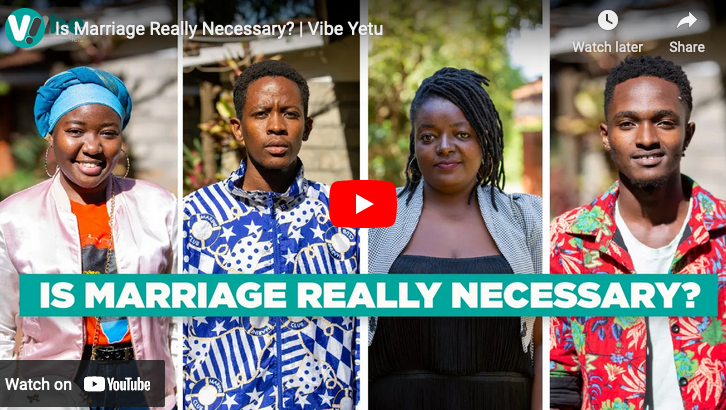 The topic on marriage is a crucial one when it comes to dating and relationships. Should all relationships lead to marriage and is it a must? Watch this conversation where the youth discuss various perspectives around marriage.