Are men allowed to cry?
We sit down with brilliant young minds to discuss this. Hats off to their courage!
Mental youth among us, the youth is equally of the essence. Sadly, young male youths are brought up in a society where their tears should never see the light of day. However, it is important to remember that above all the bars we have set for men, at the end of the day, they are human beings and as such, subject to emotions.
Our host, Mbeke Wambua had an interesting conversation with similar brilliant young minds and they indeed had a lot to say.
Find out why 'mutura is not a street food' as Wanjira Puts it!
Wanjira was Born and bred in New York and now lives in Kenya. She is currently a radio host for one of Kenya's biggest radio station, Capital fm. On top of that, Wanjira is a content creator, TV host, actor & writer. However, she wears many hats. Get to know her more in this interview as she opens her world to us on Vibe Yetu!
They Hooked Up With Their First Serious Boyfriends
The tall girls pod met in campus and clicked and are now doing a thing together. Get to here their story by watching this interview on our youtube channel. Remember to subscribe if you haven't.
Is Marriage Really Necessary?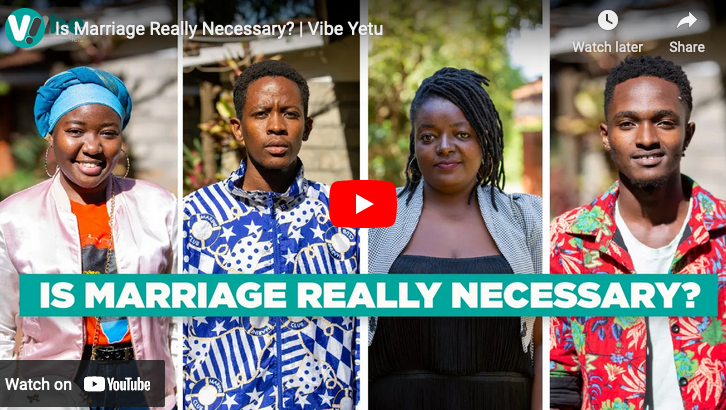 The topic on marriage is a crucial one when it comes to dating and relationships. Should all relationships lead to marriage and is it a must? Watch this conversation where the youth discuss various perspectives around marriage.