5 Tips for meeting your girlfriend's parents
Yes, we know meeting her parents for the first time can be nerve-wracking. But never fear: We'll warm you up with tips to make that first visit exemplary.
For most couples, meeting the parents is among the serious steps in a relationship. It shows that you are not only dating but also crossing the threshold into long-term expectations. If you are planning something long-term with her, then her parents will pretty much become a part of your life too.
Luckily, in this modern age, the future of your relationship does not lie with them. However, you can't deny that their approval of you will make life much easier.
Below are 5 tips to help you score that one-time goal that will help you build a healthy relationship with your girlfriend's parents.
5. Do your homework
Don't go into battle unprepared. Do some research about your girl's parents before stepping into their home. Try as much as possible to get deep into who they really are. Your girlfriend is very handy in this. Get specific: What do they do for a living? What are their politics? What are their core values? Are they religious? If you don't get enough from your girlfriend, ask her to tell you stories about growing up with them. This will let you in on important things such as parenting styles: if they were strict, then prepare to walk on eggshells during conversations and if they were free-spirited, then you can relax a little but not too much to run your mouth aimlessly.
4. Dress to impress
First impressions last longer. You don't want yours to be tarnished because of your favorite pair of ragged jeans. It's the first thing her parents will notice about you and no matter how polite you act, you won't be able to distract them from an egregious dressing. Knowing the meeting point will also help you in choosing the right outfit. Get your girlfriend to approve of your dressing first before leaving the house.
3. Keep the conversation going
This is where your reconnaissance work comes in handy! Every word coming from your mouth will be used to evaluate your character. Unless your girlfriend warned you that her parents hate their jobs, ask them about work. On the other hand, if you are intimate with a girl whose parents hold more traditional values, you might have to stay clear of the sex topic and everything remotely related to it.
2. Getting in their good graces
Compliments are a great deal to help you get into good books- well as long as you don't overdo them. You can compliment how good their house looks or how tasty her mother's meal is. However, do not go overboard with compliments such as telling her mother, "You look like her younger sister!"
If they are having you for a sleepover and they put you in separate rooms, respect the house rules and obey their wishes. Show them that you actually care for their daughter by helping to get her coat, filling her glass, or carrying around things. However, avoid PDA! this will put you on their radar negatively.
1. Actions speak louder than words
Body language speaks volumes, especially during first impressions. Smile, have an open, inviting posture (avoid crossing your legs and arms), and maintain a lot of eye contact.
You could bring a gift with you to lighten any potential tension but seek your girlfriend's approval first while choosing the gift.
COVID-19 and your mental health
One and a half years down the line, the world is still battling COVID-19.
The pandemic has devasted a lot of people especially young adults, some have lost their loved ones while others have lost their jobs. As a result, most of us experience loneliness, anxiety, depression, stress, and also nervous breakdowns.
As devastating as COVID-19 has been, the issue of its effects on mental health may last longer than the disease itself and that is why it's important to learn self-care strategies and get the care you need to cope.
Below are some of the self-care strategy tips that can help improve your mental health.
Take care of your body both Mental/Emotional and Spiritual health
This is a state of well-being in which an individual realizes his/her potential while navigating the stresses and difficulties of life.
You need to remain calm and focused while working things out with respect and unconditional intent to find a solution. Ultimately your personal character; personal strength and courage will evolve. Attaining this requires you to make healthy choices in terms of your nutrition, relationships, social contact, work, and leisure activities.
Avoid peer pressure to taking drugs.
Peer pressure! We all go through it in our lives, sometimes it has positive impacts. However, if you're a victim of negative peer pressure it can have a negative impact on your mental health during this time of the pandemic.
Be very particular about the peers you have; just have those who fit well in your ideal thinking about career options, hobbies, and interests.
Limit screen time and take time to relax and recharge.
Set aside time for yourself. Even a few minutes of quiet time can be refreshing and help to quiet your mind and reduce anxiety. Many people benefit from practices such as deep breathing, yoga, and meditation. Listen to music or podcasts, read a book, or go out with your friends while following the preventive measures for COVID-19. Just do something that will help you relax.
How to use Zoom like a pro
Working from home has become the new normal after, well, Covid. All we need to do is embrace it and use it to our advantage.
Almost everything is held virtually, and this goes for conferences, meetings and seminars too. This doesn't have to stop you from acing that presentation or interview because applications like Zoom came through for such moments. Now having Zoom is one thing, but knowing how to use its features like a pro is the key to unlocking successful calls.
Screen-sharing
This feature is a great plus for your presentations. You get to share with other members in the call a PowerPoint you created, or a document and even videos. Some have watched a full movie during those virtual parties thanks to this feature right here.
You can access it by clicking the Share screen icon in the toolbar at the bottom of the meeting screen. Now take note that once you click this option, everyone in the call can see what you are sharing. So mute those notifications, clear your tabs, and you are good to go.
Recording
Recently, I conducted a virtual interview for an article I was writing on sexual health advocacy. Recording the whole call came in handy during the writing process for references and quotations. Just like we take records of important events and meetings, Zoom also allows you to do this and have an archive to get back to. On top of the call screen, there's a recording button which you can click on to save the whole meeting to your device.
Background
If you have to get on a quick call but is worried about your physical background, you can virtually transport yourself to a background of your choice! It could be in space, the beach, an office, and many other options which Zoom avails to its participants.
Simply go to setting, click on Virtual background, and select or upload a background of your choice. Companies have also customized backgrounds to fit that of their company logo which makes it have a more professional look.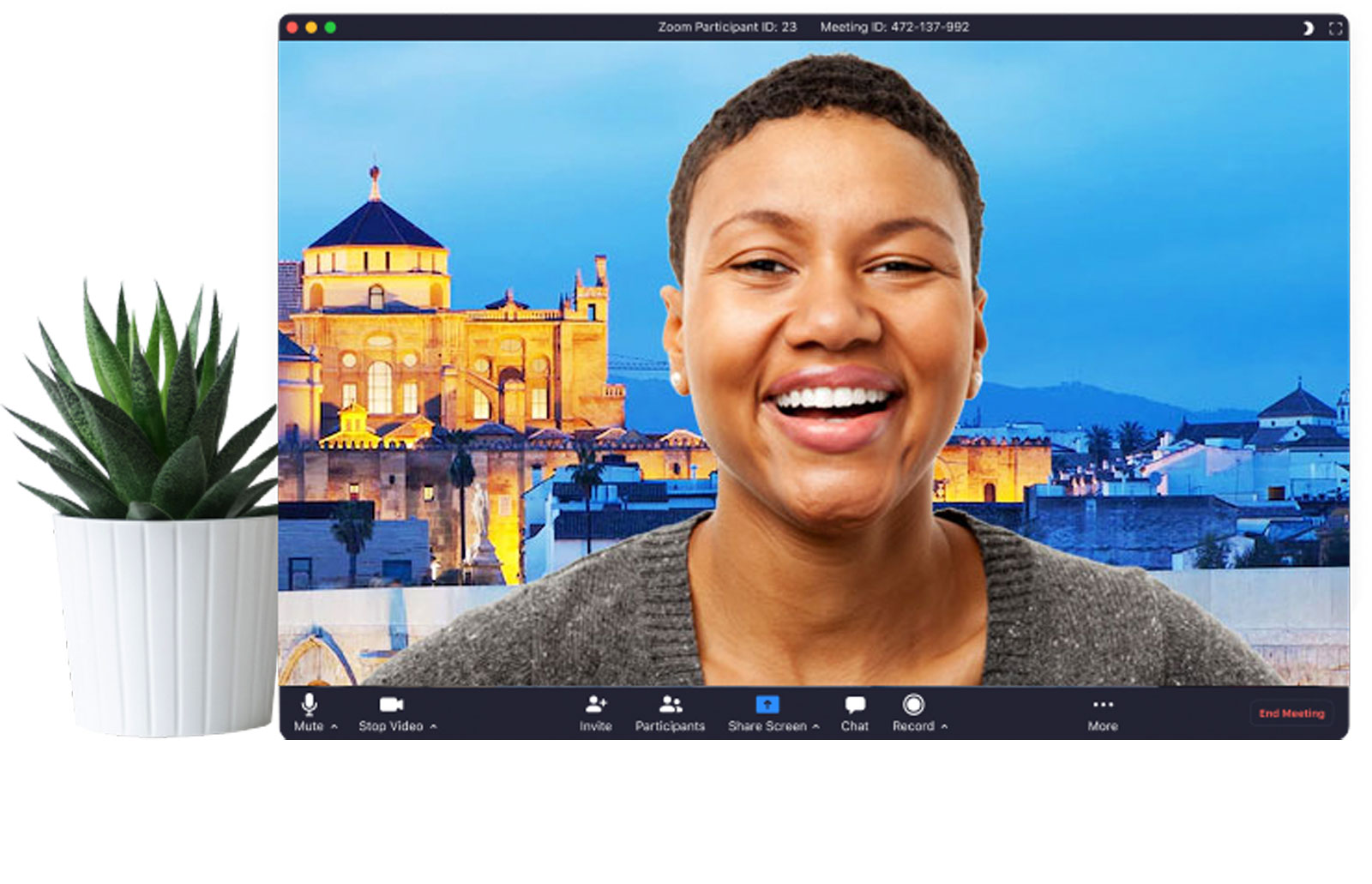 Breakout rooms
You can create breakout rooms within a call to create smaller group discussions. For example, if the whole office is in call, each department can have their own rooms to discuss an agenda then get back to the main room for pitches or feedback. Alternatively, this feature is perfect for game nights where the call members each have a team. It brings out the competitiveness and teamwork, making the games successful.
As the meeting host, you can start a breakout room by clicking Account management then Account settings. Under the Meeting tab, click Breakout Room. From there, you can assign participants to their respective rooms.
Beauty filter
If you thought beauty filter was on Instagram and Snapchat only, you thought wrong. Zoom has it too! This is perfect for the days you just need a little touch up to bring out that virtual glow. The 'Touch Up My Appearance' feature can be found on the settings button, under video settings. Just like any other beauty filter, it makes your appearance look smooth, and dewy for your calls.
5 Long distance relationship tips for college students
The point is, the fun doesn't have to end because you are far apart
Being in love is the best; being in love with someone who is far away, well, is not as smooth as it sounds. Wild guess, you are here because you are in a long-distance relationship. You are still in school and most of the things working against your relationship are beyond your control, for instance, You are in two different schools, which are far apart- probably in different counties. You are therefore scared, nervous, and worried about what will become of you two in the future.
Well, worry not. Below are a few best survivor tips to prevent your sweet world from crumbling.
Make time for them in your schedule
Both of you should make time for each other in your schedules and preferably, agree at the same time in order to prevent one party from being upset when the other cant talk.
Use these times to catch up on Whatsapp videos or skype, just don't text. Try aiming for three days of 45 minutes per week.
Peg a reward to it
Have something to look forward to at the end of the long-distance. This could either be a vacation, living together, or just a set of to-do lists to keep you excited and motivated.
Consider date nights together
With all the video apps around, you can't miss a dinner date or two each week with your other half who is away. Agree on a time schedule that will have both of you eating food at the same time while on a video call.
Souvenirs
Give each other something to hold on to. Could be a wristband, necklace, pillow, anything which will help to ease you up once you miss your partner.
Maintain the sexual spark. But safety first!
While there are many options to explore in order to keep the sexual spark between you two, consider your safety. Video and phone sex in a long-distance relationship might be risky especially at a time when nudes are being leaked left right and center from ex-lovers.
Alternatively, just pay each other visits once or twice a month and get on with it.