Consider this when shopping on Instagram
Recently, I almost had a panic attack when an online thrift store I sent money to was not reachable. Yes, I called them to confirm if they got the money and I heard that mteja tone. Yoh! Such a bad place to be. Turns out she had errands and speaking to one of her clients- she was generally slow when it came to communicating with customers.
I can imagine the number of online buyers who have gotten these 'almost panic attacks' and others who sadly, had their fears validated because they really were conned. Worse still, they received low-quality items that resulted in the never-ending 'what I ordered vs what I got' hashtags. Online businesses have become luxurious and are the go-to stores for most shoppers. Inasmuch as it is less tiring and highly convenient, online shopping requires thorough keenness. You have to take note of a few things before making that purchase.
Check Refund and Return Policy
Get information on the store's policies so you know what to do in the case a wrong product is delivered to you. Most credible online stores declare their return policies and procedure for refund. If they offer no refunds, then be extra cautious with the item you purchase. You really have to be sure!
Customer reviews
Check for these in the comment section and see what other people have to say about the store's quality. Even with this, ensure the reviews are from reliable sources. Someone could easily get their cousin to leave a good review for a low-quality product they sell. Another sure way to track these reviews is through the story highlights. Clothes stores, for example, will highlight customer appreciation posts, showing consumers who were satisfied with their purchase.
Followers
Check their traffic numbers to determine authenticity. The more people you know from their followers list, the better. AVOID shopping from local stores with more foreign customers as these were probably bought followers. It is unrealistic to sell something in Kenya and have most of your traffic from India. Do not hesitate to ask a follower you know if they have purchased something from there before and whether the product was good.
Shipping address
Most Instagram stores have pick-up stations where they drop off all ordered items. Before buying something, ensure you are familiar with the pickup station and it is near you. If it's far, check with the store and find out if they offer countrywide deliveries. This will save you from purchasing something out of your reach.
Read product description
An online store might be credible, dependable, and all that good stuff. But now you, the buyer, will still get disappointed because you ordered a size 6 yet you are a 10. That's still a shopping failure especially if the store has a no return policy.
Items look totally different from how they appear in pictures. Check to see if the product's features have been highlighted under the post and confirm that is what you want before making a purchase.
Level up
4 things we need to normalise before the end of 2021!
A lot has been said about some of these things but it is time we shed them off. Most of these things are not cast on stones but are deeply rooted in us.  Let us work towards normalising them.
1. Clubbing in sneakers for ladies
After a tough week of hustling, adulting, and paying bills, the weekend is here and you need to loosen up, go clubbing, and have fun. Question is, does it always have to be in heels? You probably already use your heels during workdays. Ditch them and go for something comfier.
2. Male grooming
For the longest time, we have been uptight when we see men getting serious about their grooming. It is about time we do away with the labeling of well-groomed men.
And for the men, getting a pedicure and using face masks does not make you any less of a man.
3. Calling out rogue service providers
It is about time we put an end to staying quiet whenever any service provider treats us awfully. Routine is simple- let them know you don't like how they are treating you and if need be, contact the customer care office.
4. Commercialising our passions
We don't really need white-collar jobs to get things going. With the current unemployment situation in the country, the least you can do is find something to put food on your table. Commercialise that passion.
COVID-19 and your mental health
One and a half years down the line, the world is still battling COVID-19.
The pandemic has devasted a lot of people especially young adults, some have lost their loved ones while others have lost their jobs. As a result, most of us experience loneliness, anxiety, depression, stress, and also nervous breakdowns.
As devastating as COVID-19 has been, the issue of its effects on mental health may last longer than the disease itself and that is why it's important to learn self-care strategies and get the care you need to cope.
Below are some of the self-care strategy tips that can help improve your mental health.
Take care of your body both Mental/Emotional and Spiritual health
This is a state of well-being in which an individual realizes his/her potential while navigating the stresses and difficulties of life.
You need to remain calm and focused while working things out with respect and unconditional intent to find a solution. Ultimately your personal character; personal strength and courage will evolve. Attaining this requires you to make healthy choices in terms of your nutrition, relationships, social contact, work, and leisure activities.
Avoid peer pressure to taking drugs.
Peer pressure! We all go through it in our lives, sometimes it has positive impacts. However, if you're a victim of negative peer pressure it can have a negative impact on your mental health during this time of the pandemic.
Be very particular about the peers you have; just have those who fit well in your ideal thinking about career options, hobbies, and interests.
Limit screen time and take time to relax and recharge.
Set aside time for yourself. Even a few minutes of quiet time can be refreshing and help to quiet your mind and reduce anxiety. Many people benefit from practices such as deep breathing, yoga, and meditation. Listen to music or podcasts, read a book, or go out with your friends while following the preventive measures for COVID-19. Just do something that will help you relax.
How to use Zoom like a pro
Working from home has become the new normal after, well, Covid. All we need to do is embrace it and use it to our advantage.
Almost everything is held virtually, and this goes for conferences, meetings and seminars too. This doesn't have to stop you from acing that presentation or interview because applications like Zoom came through for such moments. Now having Zoom is one thing, but knowing how to use its features like a pro is the key to unlocking successful calls.
Screen-sharing
This feature is a great plus for your presentations. You get to share with other members in the call a PowerPoint you created, or a document and even videos. Some have watched a full movie during those virtual parties thanks to this feature right here.
You can access it by clicking the Share screen icon in the toolbar at the bottom of the meeting screen. Now take note that once you click this option, everyone in the call can see what you are sharing. So mute those notifications, clear your tabs, and you are good to go.
Recording
Recently, I conducted a virtual interview for an article I was writing on sexual health advocacy. Recording the whole call came in handy during the writing process for references and quotations. Just like we take records of important events and meetings, Zoom also allows you to do this and have an archive to get back to. On top of the call screen, there's a recording button which you can click on to save the whole meeting to your device.
Background
If you have to get on a quick call but is worried about your physical background, you can virtually transport yourself to a background of your choice! It could be in space, the beach, an office, and many other options which Zoom avails to its participants.
Simply go to setting, click on Virtual background, and select or upload a background of your choice. Companies have also customized backgrounds to fit that of their company logo which makes it have a more professional look.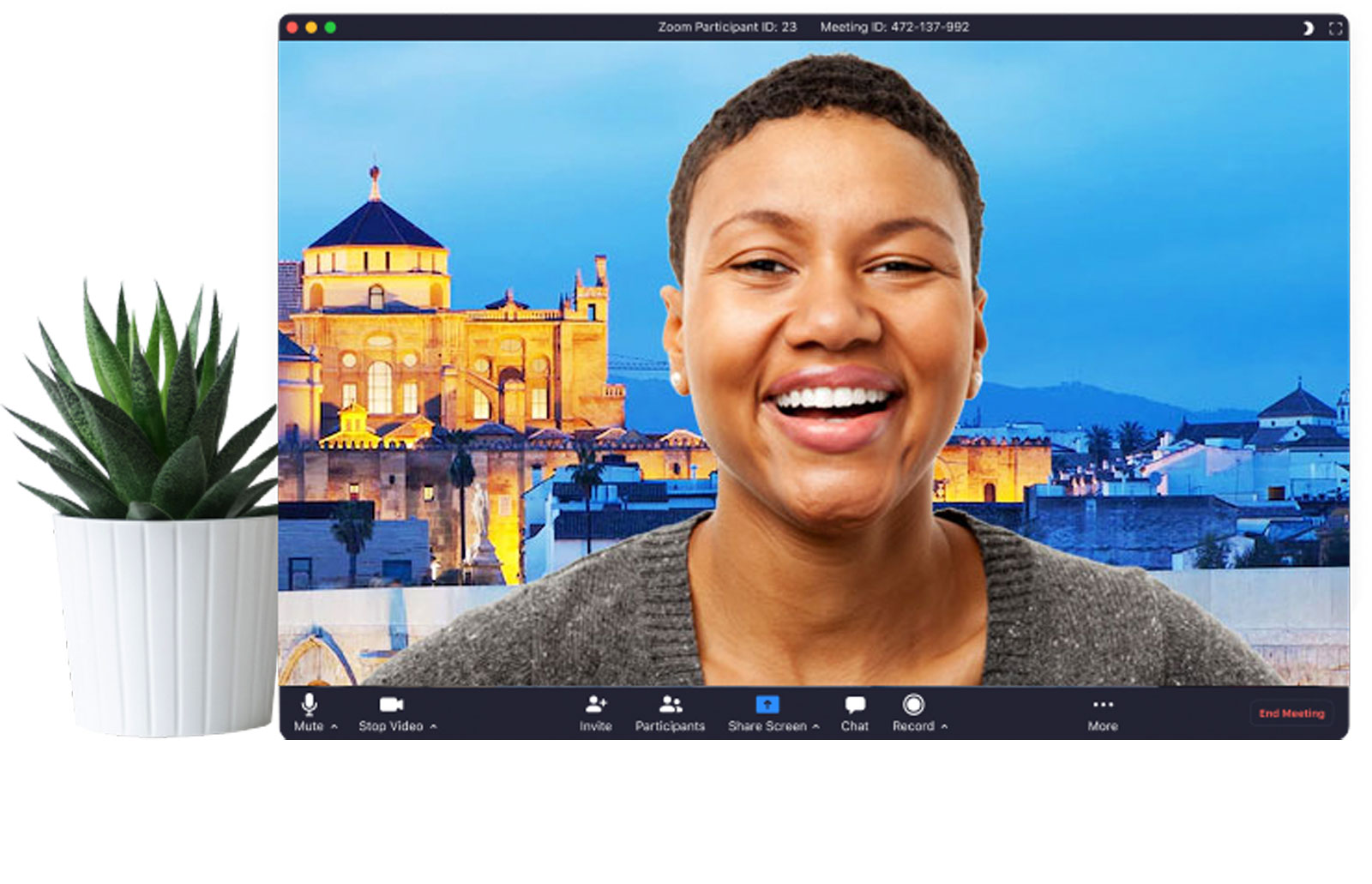 Breakout rooms
You can create breakout rooms within a call to create smaller group discussions. For example, if the whole office is in call, each department can have their own rooms to discuss an agenda then get back to the main room for pitches or feedback. Alternatively, this feature is perfect for game nights where the call members each have a team. It brings out the competitiveness and teamwork, making the games successful.
As the meeting host, you can start a breakout room by clicking Account management then Account settings. Under the Meeting tab, click Breakout Room. From there, you can assign participants to their respective rooms.
Beauty filter
If you thought beauty filter was on Instagram and Snapchat only, you thought wrong. Zoom has it too! This is perfect for the days you just need a little touch up to bring out that virtual glow. The 'Touch Up My Appearance' feature can be found on the settings button, under video settings. Just like any other beauty filter, it makes your appearance look smooth, and dewy for your calls.