Beat the July cold with these 5 outfit essentials
'Hii ni baridi ama fridge?'
Save yourself from this phrase with these essential outfit pieces.
This season's cold has been deemed unbearable with some asking if we are in a fridge. Though we've found a way to make light of the situation, the cold is indeed biting, some places more than others. This does not mean you have to freeze. Fight back the cold with these warm outfit essentials:
Socks
Socks have never felt so underrated. Though we sometimes wear them as a statement piece in our crocs outfits, socks have really come through this cold season. Get thick ones to wear them with your day to day outfits.
Gloves
You can't help yourself from constantly rubbing you hands together in this season. This, with the notion that it keeps your body warm. Though it's true, gloves keep you twice as warm. Your hands will be warm throughout and so will your body.
Boots
Have you seen the mud that has come with this rain? Exactly. This is really not the time to put on your favourite white air force sneakers. Save the drip for later and get yourself some leather boots. Ankle-high, knee-high or thigh-high boots also come in handy for the warmth with the extra coverage it gives your freezing skin.
Scarfs
It is not a complete cold season outfit without a warm scarf around your neck. No matter how warm you are, if your neck is bare, then you're cold. Scarfs and pull necks come in handy at this point.
Beanie hat
During cold seasons, our ears suffer the most. We thank beanie hats for their capability to cover up to our ears. A great way to tackle this fridge weather is getting yourself a beanie to save your ears.
Issa Rae Gets Married
Issa Rae followed her quiet engagement to businessman Louis Diame with a wedding on 26th July 2021. The only acknowledgment of the engagement was a 2019 Essence cover photo that revealed her ring; it was confirmed by her less-private co-stars
Issa Rae got married to her long time beau Louis Diame, in a lush ultra-private ceremony in the South of France. Issa Rae who plays a fictional love life on her series, Insecure, lives a contrary life of secrecy with her now husband and business man Louis Diame. Diame is said to be a businessman from Senegal. It is possible that they have been dating since 2012.
The two wedded in Saint-Jean-Cap-Ferrat, France.
The Insecure actress and alumnus of Stanford University, revealed the news in a nonchalant social media post that had people thinking that it was a prank of some sort. Prompting most social media announcements by other showbiz news outlets to indicate that it was not a drill and that the two really wedded.
Rae captioned her Instagram post followed with glamorous photos of her and husband in wedding clothing as,
"A) Impromptu photo shoot in a custom @verawang dress.
B) My girls came to help me, but they all coincidentally had on the same dress! They were sooooo embarrassed.
C) Then I took a few flicks with Somebody's Husband.

Big thanks to @whiteedenweddings for being so gracious and accommodating and making this feel so real and special."
Issa Rae recently announced the end of her hit series Insecure after filming the fifth and final season.
What does that piercing symbolise?
Piercings are among a trend that people around the world especially the youth are embracing to express their liberal mindsets. But what exactly do they signify?
You are most likely to run into someone with a piercing that is considered unconventional even though piercings have been around since time immemorial.
Body piercings have been utilized significantly in many aspects of the human existence like religion, spirituality and traditional rites of passage. For instance among the Aztec, the king or a person of high nobility, was permitted to have lip, ear and nose plugs made of gold and precious stones. For each prisoner of war captured or big battle victory achieved, a man's lip ring would be enlarged a size. They were also sign of self-expression, aesthetic value, sexual pleasure, conformity to one's culture or to rebellion against it.
Piercings also carry many symbolism among many culture some of which we will tackle here in regard to the nose piercings.
Nose piercings especially, represented a spiritual history and symbolic presence from the Middle East. The first record of nostril piercings traces back 4,000 years in the Bible when Abraham gifted his daughter in-law, Rebekah a gold nose ring.
In the 16th century the Mogul Empire from Central Asia made nostril piercings a popular and common practice in India. The mass popularization of piercings began in the 60s and 70s with the emergence of the hippie movement. They journeyed to India for spiritual enlightenment where they picked up nose piercing which was uncommon where they came from, Consequently, they wore nose piercings to symbolize their rebellion against their society's traditional values. The piercing was also a symbol of boldness, rebellion, and freedom of choice.
Let's see what the two most popular nose piercing represented:
Nostril piercing
Among the Indians, women obtained the left nose piercing to relieve menstrual cramps and other feminine issues like irregular menstrual cycle, reduce pain during childbirth, and increase sexual pleasure and libido. Connoisseurs of traditional Chinese medicine believe that the left nostril is connected with feminine energy, while the right nose side symbolizes masculine energy.
Among the Beja and Berber tribes in North Africa, it symbolizes wealth and abundance of the family. The bigger the ring, the more respected the family is.
Traditional Hindu families get the young girl's nose pierced when they are around 12 and considered ready to marry.
Septum piercing
Boys in the Asmat tribe of New Guinea got a septum ring before their first headhunting raid. That ritual signified their adulthood and labelled them as mature men. Septum piercings were common tradition among Native American, Australian, Mayan, Aztec, Inca, Indian, Nepalese, Bengali and Tibetan aboriginal tribes. Tribal people and warriors used a spectrum of septum jewellery including bone, wood, tusks, gold and jade. These represented beauty, milestones, manhood, warrior strength, wealth, fertility and brain cognition.
Now you know, if you have plans of obtaining a piercing on the nose, may it be for the reasons mentioned above 😉
Let's thrift! Best places to get second hand clothes
Thrifting has become a lifesaver to many, including me. I can't remember the last time I went to a boutique to get clothes.
It has been 'mitumba' all the way for most of us, and we're killing it! The thing I like about second-hand clothes is that you won't find the same outfit with everyone on the streets. They are stylish as well as unique. You can never rely on one place for your thrift cravings. Many thrift shops have come up recently, making second-hand cloth shopping even better. From online thrift shops, bale clothes, and boutique thrift shops, these places will serve all your mitumba needs.
Think twice second hand clothes
'Think Twice' stalls have been set up in many locations in Nairobi. I saw one in Nakuru too! Do not let the name fool you. I also wondered why we have to think twice but I guess, "think twice before you go to another shop because we offer amazing clothes." I love the setting in these stalls. Despite being second-hand, the clothes are organized according to type and gender. They also have a kids section and a home section that has bedding and beautiful curtains. Best of all, they have fitting rooms!
They have open days for new arrivals when prices are fixed for each item. After these open days, their prices reduce day after day till as low as 10 shillings for each cloth! Then the cycle begins.
Budget wear
Budget wear is something similar to think twice with open days when new arrivals come in, and sale days when everything is at a discounted price. I specifically love their spacious fitting rooms. They are well lit and have lockable doors, contrary to blinders.
So far, I have gone to the one located at Jewel Complex next to Thika Road Mall and came out with a bag full of 'steals'. I saw another one at Westlands the other day and bet there are other stalls in Nairobi.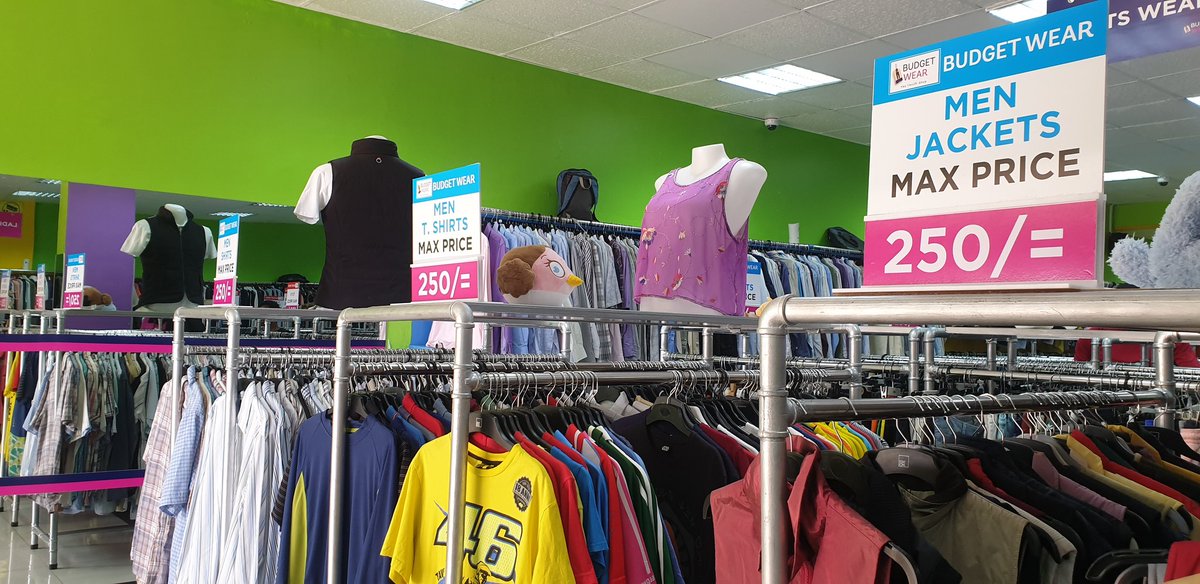 Instagram thrift stores
IG is definitely the place to go for your thrifting sprees. You get to shop in the comfort of your home without having to go through a pile or line of clothes. Thanks to delivery services, you can also get your orders at your doorstep.
Instagram stores that offer affordable and quality second-hand clothing have become numerous. My favourite stores have to be Little Saint thrift, Kairetus Apparel, Mara styles, and the Attic Addictions. There's a whole list of hidden gems I have not mentioned but I know you know them. A tip for online shopping is that, inasmuch as there are great stores, some are out to con you. Ensure your plug is reliable and you're good to go!
Gikomba
You cannot talk about second-hand clothes without mentioning the famous Gikomba. 'Gikosh' has dressed celebrities on the red carpet, making them look like models straight from Vogue. It is where all the magic happens! Here, you get to have a wide selection of things including clothes, bags, shoes, and bedding. Most thrifts get their goodies here and sell them for profit. If you do not mind digging through piles of clothes, this is the place for you.
Toi market
Toi market, located along Ng'ong road has been a favourite stop to many. Their 'camera' clothes are of high quality and offer great options to splurge on. Just like Gikomba, Toi market is the home of everything and a great source of celebrity outfits.
Roysambu
Located along Thika Road, Roysambu has amazing thrift stalls that leave you gawking every time you pass by. They have really nice displays and are highly affordable. This has been my go-to shopping stop anytime the purchasing spirit hits me. I have never been disappointed even once.
Ngara
Ngara, next to town, have vendors that stretch up to river road. This shows the expanse of options available. You can decide to take a walk from town up to the flyover at Ngara and be sure to find something to cash out on.
And..
Some YouTubers have come up with amazing content to show you where to get specific outfits through their hauls. This will save you the hustle of walking around the market to find something right under your nose. Some of my favourites are Rhoda Maina, Nimfa Karen, Miss Mukoya, Lavigne Maruti and Kendi Kiome. Happy thrifting!
Featured image: News24