A moment with Shari Afrika
We catch up with sensational singer-songwriter, Shari Afrika on her musical journey and plans for the future. Read on to know what inspired her new release, 'Tuendelee.'
Kenyan based songstress, Shari Afrika, developed her passion for music on stage at a club as she was performing Posa ya bolingo by Congolese musician, Alicios. It was how her crowd vibed to the music that drew her passion. Here she was, before strangers on the same wavelength enjoying her performance and appreciating her talent. Since then, she decided to maximize on this gift. Years later, she is significantly growing in the industry and making applaudable moves. Offstage, Shari describes herself as a super shy, super chill human who loves to laugh.
Today we celebrate her new release, 'Tuendelee', and get insight into how the journey has been.
Congratulations on your new release! What was the inspiration behind the song, and the video?
Thank you! I usually draw inspiration from my life and that of those around me. This specific song came about during the first lock-down which found me in Kisumu. At that time, I had this person who was in and out. It got to a point where I was done with the inconsistency and needed to make a solid decision. Tunaendelea ama hatuendelei?
About the video, I've always found Avant-garde art so provocative and beautiful. So when creating the concept, that's the style I wanted to explore from the get-go. Handcrafting some of the outfits( especially the clouds) was so fun. I also got to flex some of my dancing skills thanks to Maulid's choreography.
Amazing! What do people think about it? Personally, I'm wowed!
The song has been received well by those around me. They love it! I like how they notice and appreciate the hard work I put into it.
Tell me about your first release. How do you think it compares to now?
My first release was a cover of one of my faves, Simi. Watching it now makes me a bit uncomfortable because I keep hearing things I could have done better. Comparing this to Tuendelee, I see growth in every angle. I am a better vocalist, more passionate, less camera-shy, have a better style and clearer vision.
Who can you attribute how far you've come to?
This is a tricky question to answer because some names slip my memory and they might feel unappreciated but I'll try. First, I am a product of the community. Mr Ongeri and Mr Yogo gave me good training during my time at Moi University Band. My very first songs were recorded in the hostels with Muga and this helped me transition from the live scene into the studio.
Coming to Nairobi, I met so many producers who really impacted my journey. Ngala Oreyo is fam. Mallon took me to the studio and worked tirelessly on my EP, "Dala". Shout out to Darwin for always believing in me, Alicios, for noticing me and putting me under her wing, The Dagoz fam for adopting and nurturing me, Director Andere for believing in me and shooting my first two projects, Samson Maiko for pushing me to learn to produce for myself and even lending me equipment to do so! Trio Mio and my Serereka fam, because the song put me on a different level, my mum for being my number one fan, and Simila Sidney, with whom I'm working tirelessly to create some of the best music you will get to hear soon.
What is your experience as a woman in the music industry?
Definitely tough. You work 10 times hard. When you go to some studios or events, you are visualized as a pretty woman before you are even seen as a professional musician. Takes a while, but you learn how to manoeuvre and survive.
What are some of the memorable moments in your career so far?
Performing at Choma na Ngoma with Alicios remains at the top because it was a dream come true. And meeting Patoranking! There's also this moment after Serereka dropped, I went to do a talk show in a School in Kayole and during lunch break, all the girls were approaching me asking if I'm the singer from Serereka. Mark you, I was wearing a mask!
What are your dream collabs, local and international?
Locally, I'd love to do a joint EP with Bensoul, and another one with Nviiri. I'd love to work with Maandy, Dyana Cods, Suzzana Owiyo, Blinky Bill, Fena, Bien, Octopizzo, Steph Kapela, Wanjine, Serro and many more.
Internationally, I'd love to work with Yemi Alade, Ruby, Angelique Kidjo, Sona Jobarte, Waje, Apio Moro, Charlotte Dipanda, Maud Elka, Shekinah, Patoranking, AG Baby, Simi, Salaitel, Samthing Soweto, Casper Nyovest, Daphne Njie, Zuchu, Rayvanny. By now you should be able to see that this list is not going to end. Haha!
You have made two hit songs with rising star Trio Mio, how did that come to be and what was the experience working with him?
Yes. Both of them were quite random and not planned. For Serereka, I was chilling with my BFF (who's Trio's sister) and Trio was jamming to the beat. Somehow, I joined in and we made a hit. Vumilia was quite different. His management called and asked if I could lend my vocals to the track. They already had the chorus and I said, "Of course!"
Serereka – Trio Mio X Shari Afrika (Official Video)
I enjoy working with him. I'm trying to see if we could do a joint EP as well. That would be so dope!
Is music your full-time career?
Currently, yes. I quit my job in April to focus on music and so far, I do not regret it. I have enjoyed every single moment.
Five years from now, where can we expect the Shari Afrika brand?
A Grammy award-winning Afrikan! By 2026, I hope to have become a global brand, performing all over the world. I hope my music will have healed and impacted millions of people trying to navigate life. Also, those collaborations I had mentioned earlier, I hope I will have done them all.
Quickfire:
Favourite artiste of all time? Can't decide. Lol. My mind is racing.
Beyoncé or Rihanna? Rihanna
Favourite snack? Salt and vinegar crisps
Dubai on a yacht or desert safari? Dubai on a yacht
Makeup must-have? I can't do life without an eyebrow pencil.
Entertainment News round up
A lot is happening in a short span of time. Therefore we thought to fill you in on happenings that may have skipped your timeline.
Nikita Kering got nominated for AFRIMAWARDS 
Recently, Nikita Kering, a Kenyan RnB artist was nominated for the All Africa Music Awards in three categories 1. Best Female Artiste in Eastern Africa 2. Songwriter of the year 3. Best Artiste, duo, or group in African RnB Soul. Voting is ongoing on http://afrima.org Vote for her!
Kevin Hart launched a clothing line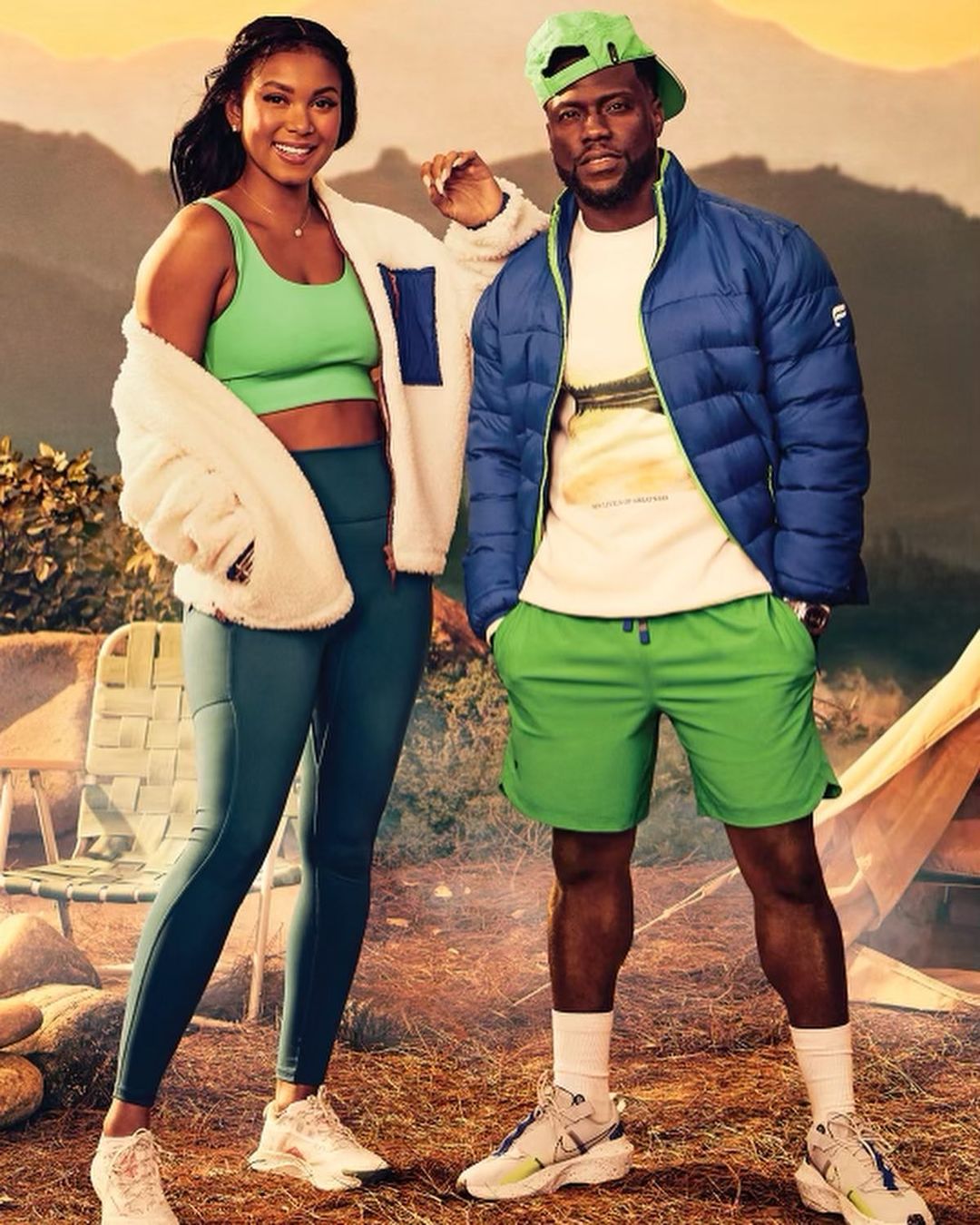 The line which is dubbed 'the Hart collection' is produced in collaboration with fabletics, Kevin Hart and his wife Eniko Hart. The collection comprises mostly sporting gear, hats and sweaters.
Venessa Mdee welcomed a baby girl
The Tanzanian artist who is engaged to power actor Rotimi recently welcomed their first child. The superstar who currently resides in Nigeria with her fiancé announced her pregnancy with a picture on her social accounts. She followed that recently with the hand of a newborn and a caption bearing the name Seven Adeoluwa Akinosho. Kenyan celebrities who flooded her timeline with congratulatory messages include Tallia Oyando, Akothee, and Sarah Hassan.
Vybz Kartel bought his family property
After 10 years of incarceration, Vybz Kartel, the famous dancehall artiste is now investing in property for his family. In an Instagram post, he announced that he had procured land for his son who was now a father, and bought a house for his aging mother and father.
Kenyans vote Otile Brown, the biggest artist in Kenya
Nairobi Gossip Club hosted an opinion poll where they asked Kenya to mention the biggest Kenyan artist. As usual, fans took to commenting where most comments indicated that they considered Otile Brown the biggest artist in Kenya. Otile Brown must have impressed his fans by his work ethic, strategic collaborations and his relentless urge to rise as a star.
Other honourable mentions included Nyashinski, Sauti Sol, Khaligraph Jones and Nikita.
Akothee speaks on her struggles of being a public figure
According to the mother of five, not every stranger who approaches you has good intentions and went on to say that she has been forced to run away from her fans on several occasions
Being a public figure comes with its own share of challenges that come as a result of high expectations from people who at time forget you are human being too.
Now, singer Esther Akoth, popularly known as Akothee, in a post on her Instagram account has opened up on the struggles she goes through in her life as a public figure. The hit maker revealed that she is always uneasy when she discovers that she has been noticed when in a public area.
"You all might not understand but allow me to express myself today. I may appear strong but deep down I have been broken so many times. I am a moving damaged goods," She wrote.
Akothee said that being on the limelight might not be as glamorous as majority of the people at times believe and events from her past still give her chills when it comes to meeting her fans.
"I have realized that I have become very sensitive that I don't even want to leave my house. I don't like people recognizing me in public and at times I just wished I was just a normal person passing the streets in peace," she added.
According to the mother of five, not every stranger who approaches you has good intentions. She went on to say that she has been forced to run away from her fans on several occasions. Akothee admitted that she is always scared to meet her fans to the extent that she gets traumatized before leaving her house or jumping out of her car.
"I am Samuel" film banned
The film was produced in 2020 by Toni Kamau which highlights the experiences of Samuel Asilikwa after coming out as a gay man in the streets of Nairobi
The Kenya Film classification board(KFCB) has announced the ban of a "gay" themed documentary on Samuel Asilikwa, a Kenyan. The film was called "I am Samuel" and was directed by Peter Murimi.
In a statement on Thursday, acting KFCB Chief Executive Officer Chris Wambua said that the ban will be in effect because the film is promoting a "gay theme"
"In the course of examining a film titled: I am Samuel, which was submitted to the Board for classification, the Board noted a clear and deliberate attempt by the producer, to promote same-sex marriages as an acceptable way of life," Wambua said.
He went on to say that the same-sex relationship is evident in the film through repeated confessions by the gay couple(in the film) that what they feel for each other is normal and should be embraced as a way of life.
Mr. Wambua also announced that any attempts to air the film with the Kenyan territory in now deemed illegal and any to distribute it within the country shall be met with the full force of the law.
"While the Board welcomes local and foreign support to our budding local film industry, such funding should focus on production of content that is aligned with the laws of our country. Films that advocate for same-sex marriages, homosexuality or any outlawed practices shall not be allowed for exhibition, or distribution within the country," KFCB said.
The film was produced in 2020 by Toni Kamau which highlights the experiences of Samuel Asilikwa after coming out as a gay man in the streets of Nairobi. It also shows his experience of rejection from from friends and some family members.