M-Pesa app VS sim toolkit: Is it worth it?
It does not consume your time, making it simple, fast and easy to access your money.
The new app by Safaricom is here to make our lives simpler and more fun, at least that's what the telco giant is aiming for. Seeing as most of us have smartphones in this digital era, all you need to do is just visit the Google Play Store if you have an android phone or the Apple Store if you have an iPhone.
As far as apps go, you would not want to miss out on this new opportunity to integrate and access all your M-Pesa options with ease, from transactions to M-Pesa statements. The app provides easy access to your daily expenses and also calculates your monthly expenditure. Basically, it gives you an easy way to account for all your financial expenditures.
The app also allows you to categorize your transactions, for example, family, friends, household, transport and many more.
Here are some of the interesting facts about the app:
The app has a Request Money feature where you can request money from people who owe you
It has an offline mode in case you have no data
It has mini-apps that are easily accessible and you can send money to many people at the same time.
If you are venturing into business and need to track their financial expenditures, the app is definitely for you.
On the flip side, it does consume a lot of data to download but you get Ksh 100 on download from Safaricom to make up for it!
Bahati Tena Foundation, Odibets partner to support small scale businesses
Gospel artist Bahati has partnered with Odibets, a betting firm in Kenya to support small-scale businesses in a promo dubbed "Pata Bahati ya biz na Odibets" in a launch yesterday at Nairobi hotel.  The betting firm said the promo is set to see several lucky betting fanatics win Ksh 50,000 weekly which is a boost to their businesses.
Customers will be required to place at least one jackpot bet on any Odibets Mega Jackpot round using a stake of Ksh 95. They will then automatically enter into the draw to win.
Winners will receive their boost credited to their Odibets' accounts after which they can withdraw to their M-Pesa.
"I have decided to partner with Odibets on this promo to give back to my loyal fans who have been with me through thick and thin. Boosting their businesses and helping them earn a living for themselves will see them through the rest of the year as the promo runs," said Bahati during the launch of the promo.
During the launch, the Odibets Marketing Manager Aggrey Sayi said that since 2019 the organization has supported more than 40,000 young people through its partnership with the Football Kenya Federation(FKF) to progress their talents, and now the betting firm is going out of its way to better the lives of Kenyans by supporting small businesses and entrepreneurs.
"Our aim is to have impacted either directly or indirectly the lives the lives of more than half a million young people by 2023," added the Odibets Marketing Manager.
The promo will run from 23rd August 2021 to the 1st of July 2022 and also all Mega jackpot bets shall be considered as entries in the promotion.
Odibets had earlier partnered with Rapper Khaligraph Jones in the Odinare' Rap Challenge in which Rapper Katapila won the first round grand prize of Kshs 1 Million.
Consider this when shopping on Instagram
Recently, I almost had a panic attack when an online thrift store I sent money to was not reachable. Yes, I called them to confirm if they got the money and I heard that mteja tone. Yoh! Such a bad place to be. Turns out she had errands and speaking to one of her clients- she was generally slow when it came to communicating with customers.
I can imagine the number of online buyers who have gotten these 'almost panic attacks' and others who sadly, had their fears validated because they really were conned. Worse still, they received low-quality items that resulted in the never-ending 'what I ordered vs what I got' hashtags. Online businesses have become luxurious and are the go-to stores for most shoppers. Inasmuch as it is less tiring and highly convenient, online shopping requires thorough keenness. You have to take note of a few things before making that purchase.
Check Refund and Return Policy
Get information on the store's policies so you know what to do in the case a wrong product is delivered to you. Most credible online stores declare their return policies and procedure for refund. If they offer no refunds, then be extra cautious with the item you purchase. You really have to be sure!
Customer reviews
Check for these in the comment section and see what other people have to say about the store's quality. Even with this, ensure the reviews are from reliable sources. Someone could easily get their cousin to leave a good review for a low-quality product they sell. Another sure way to track these reviews is through the story highlights. Clothes stores, for example, will highlight customer appreciation posts, showing consumers who were satisfied with their purchase.
Followers
Check their traffic numbers to determine authenticity. The more people you know from their followers list, the better. AVOID shopping from local stores with more foreign customers as these were probably bought followers. It is unrealistic to sell something in Kenya and have most of your traffic from India. Do not hesitate to ask a follower you know if they have purchased something from there before and whether the product was good.
Shipping address
Most Instagram stores have pick-up stations where they drop off all ordered items. Before buying something, ensure you are familiar with the pickup station and it is near you. If it's far, check with the store and find out if they offer countrywide deliveries. This will save you from purchasing something out of your reach.
Read product description
An online store might be credible, dependable, and all that good stuff. But now you, the buyer, will still get disappointed because you ordered a size 6 yet you are a 10. That's still a shopping failure especially if the store has a no return policy.
Items look totally different from how they appear in pictures. Check to see if the product's features have been highlighted under the post and confirm that is what you want before making a purchase.
Dealing with debt stress.
To begin with, there is no shame in asking for a debt. It is a great way to finance your business and also get you up on your feet. What should accompany taking loans however, is responsibility.
Taking loans has become so easy over the years and basically anyone can loan money. The increase in mobile loan apps such as M-shwari and Fuliza has made it possible for Kenyans to borrow money anytime. Citizen TV's coverage of 'debt of shame' on Sunday, July 18 shows how many have succumbed to harassment and endless threats from creditors. This is a reality to some, leaving them stressed at the idea of raising the money, some of which multiplied beyond their means. In some instances, you might have been listed as a guarantor and in turn took over the debtor's burden.
To begin with, there is no shame in asking for a debt. It is a great way to finance your business and also get you up on your feet. What should accompany taking loans however, is responsibility. You should ensure that you borrow within your means so that it won't cost you an arm and a leg to pay it back. Here are some of the steps you should take after taking a loan to ensure you do not fall victim of debt stress.
Create a debt payment plan
Identify your creditors, list them down and create an achievable plan to pay the debts. Depending on what you prefer and can afford, you can start with the lowest debt or highest one. Also, look at the interest rate. Pay those who have fast interest rates first before moving to others. Give yourself a deadline by which you will be able to pay the debts and challenge yourself to meet it.
Increase your income
What increases debt stress more is knowing you do not have the money to pay up and your salary won't sustain the debt. Hence, you need more money flowing in so that you can set some aside for your payment plan. Find side hustles to grow your income and save as much as you can.
Cut down on costs
You can't spend money you don't have. Prioritize your expenses and save as much as you can to raise money for your payment plan. Create a functional budget that will help you track your expenditure and progress. You will have to deny yourself some luxuries for a while. The satisfaction that comes with paying all your debts will be worth it.
Pause
In order to deal with the underlying debts, take a pause on taking up more loans. The notion of borrowing money from another creditor to pay one will only lead you into a deeper hole because you will still owe money. Find other ways to get money other than loaning from other sources. This will reduce your debts and take you a step forward into paying those you have.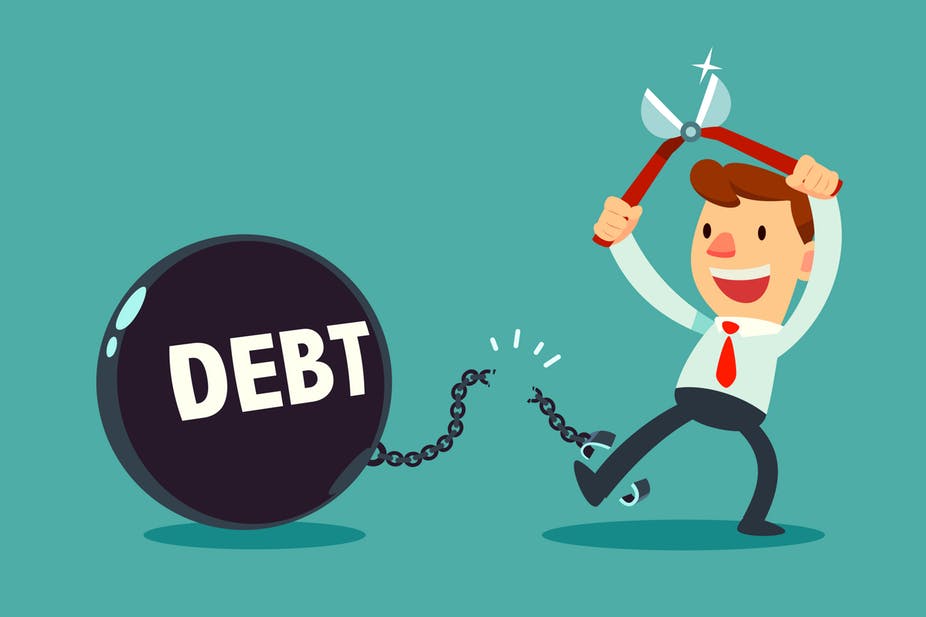 Ask for help
Talk about what you are going through with your friends and family. It is okay to ask for help with your debts when it gets heated. With your family and friends, the pressure will not be intense as they will understand your situation. Ensure to discuss with them when you can pay them back and do so to secure help in the case of a future need.