What you need to know about Android 12
If you are a huge fan of phone software updates like me, then you'll definitely love this. Android 12 is here and it is incredible! Watu wa IOS have nothing on us android lovers.
If you are a huge fan of phone software updates like me, then you'll definitely love this. Android 12 is here and it is incredible! Watu wa IOS have nothing on us android lovers.
The first beta version was released on May 18 2021 and will be available on Google Pixel phones and other devices such as : Asus (Zenfone 8), One Plus (OnePlus 9 and 9 Pro), Oppo (Find X3 Pro), Realme (Realme GT 5G), Sharp (No device info available), Tecno (Camon 17), TCL (TCL 20 Pro 5G), Vivo (iQOO 7 Legend), Xiaomi (Mi 11, Mi 11 Ultra, Mi 11I, Mi 11X Pro) and ZTE (ZTE A)
Android 12 will be the twelfth major release and 19th version of Android, a mobile operating system developed by Open handset alliance led by Google. Since it's onset Android has grown to more than 3 billion active devices across the world according to VP of Product Management, Android & Google Play, Sameer Samat. The latest version of android as termed by the developers is Designed for you
Android 12 is introducing the biggest design change in Android's history. According to the developers they rethought the entire experience, from the colors to the shapes, light and motion. The result is that Android 12 is more expressive, dynamic and personal than ever before.
Here are 5 major exciting changes to expects once you receive the Android 12 update on your device:
New UI
This will be the biggest change that will come with Android 12. You will have a completely different user experience with your smartphone device and guys I have to admit this is exciting! 'Using what we call color extraction, you choose your wallpaper, and the system automatically determines which colors are dominant, which ones are complementary and which ones just look great. It then applies those colors across the entire OS: the notification shade, the lock screen, the volume controls, new widgets and much more' a blog by Android states
In addition, you get bigger, rounder bubbles in the notification bar a change that Google calls "more intuitive and playful,"
Fluid motion and animations
Thanks to under-the-hood improvements, Google says that things should be more fluid in Android 12. They have simplified interactions and recrafted the entire underlying system to make your experience more fluid and efficient. Your android device will now quickly respond to your touch with smooth motion and animations.
Precisely, Google claims to have reduced the CPU time needed for core system services by up to 22% and the use of big cores by the system server by up to 15% . The results? A more responsiveness in day-to-day use as well as longer battery life.
Privacy
There has been recent privacy concerns over Google with many speculating the company shares personal information with third party websites. However, with Android 12, Google is seeking to rectify this. They are now taking things more seriously.
You can now see which apps are accessing your data, and more controls so you can make informed choices about how much private information your apps can access.
Remember when there were concerns that your phone is recording your conversations? Well, with Android 12 you will now be able to know which apps are accessing your microphone or camera and also revoke those permissions with a simple toggle available under the Quick settings
In terms of Location information, you now have control over how much you share. Apps will now not have access to your precise location. They will be limited to seeing just your approximate location instead of a precise one
Remote Control
Imagine not having to look for the remote because just by a tap of your phone you can switch channels? Well, stop imagining because this will be possible once your upgrade your android device to Android 12. Your phone will now be able to double up as a TV remote, at least for Android TV OS devices, including Google TV-enabled ones.
Scrolling screenshots
Android 12 supports scrolling screenshots, letting you capture more in one go instead of having to resort to multiple images.
We can't exhaust the numerous changes, Android 12 is bringing at one go. However, Google has more detailed information for you if you'd like to dive deeper.
The full version is expected to be released before the end of this year with many speculating it will be released in September as the previous 2 versions-Android 10 and 11-have been released around that time. This is expected to be an exciting experience for android device users and I definitely can't wait for the full version to experience it
How to use Zoom like a pro
Working from home has become the new normal after, well, Covid. All we need to do is embrace it and use it to our advantage.
Almost everything is held virtually, and this goes for conferences, meetings and seminars too. This doesn't have to stop you from acing that presentation or interview because applications like Zoom came through for such moments. Now having Zoom is one thing, but knowing how to use its features like a pro is the key to unlocking successful calls.
Screen-sharing
This feature is a great plus for your presentations. You get to share with other members in the call a PowerPoint you created, or a document and even videos. Some have watched a full movie during those virtual parties thanks to this feature right here.
You can access it by clicking the Share screen icon in the toolbar at the bottom of the meeting screen. Now take note that once you click this option, everyone in the call can see what you are sharing. So mute those notifications, clear your tabs, and you are good to go.
Recording
Recently, I conducted a virtual interview for an article I was writing on sexual health advocacy. Recording the whole call came in handy during the writing process for references and quotations. Just like we take records of important events and meetings, Zoom also allows you to do this and have an archive to get back to. On top of the call screen, there's a recording button which you can click on to save the whole meeting to your device.
Background
If you have to get on a quick call but is worried about your physical background, you can virtually transport yourself to a background of your choice! It could be in space, the beach, an office, and many other options which Zoom avails to its participants.
Simply go to setting, click on Virtual background, and select or upload a background of your choice. Companies have also customized backgrounds to fit that of their company logo which makes it have a more professional look.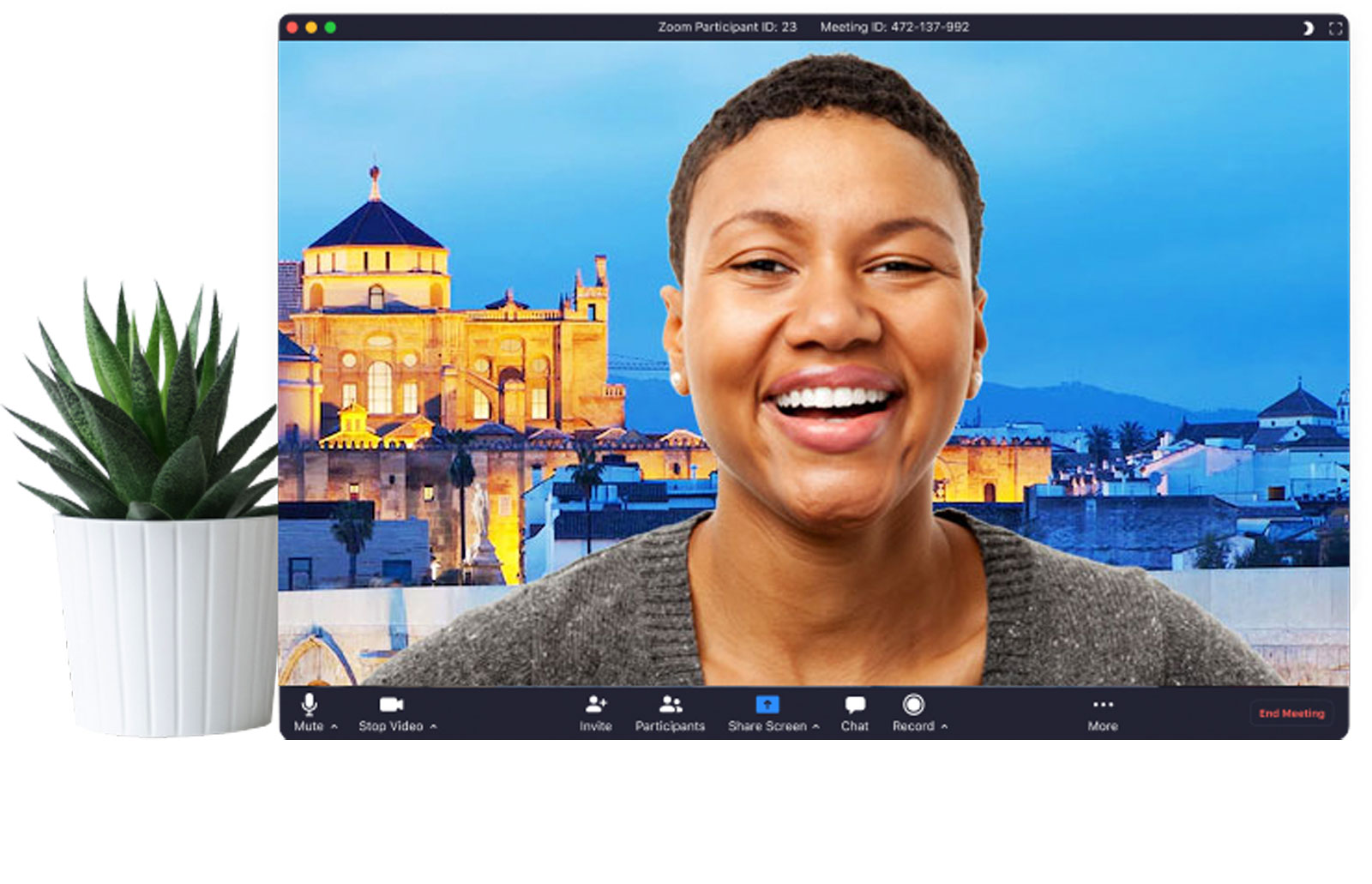 Breakout rooms
You can create breakout rooms within a call to create smaller group discussions. For example, if the whole office is in call, each department can have their own rooms to discuss an agenda then get back to the main room for pitches or feedback. Alternatively, this feature is perfect for game nights where the call members each have a team. It brings out the competitiveness and teamwork, making the games successful.
As the meeting host, you can start a breakout room by clicking Account management then Account settings. Under the Meeting tab, click Breakout Room. From there, you can assign participants to their respective rooms.
Beauty filter
If you thought beauty filter was on Instagram and Snapchat only, you thought wrong. Zoom has it too! This is perfect for the days you just need a little touch up to bring out that virtual glow. The 'Touch Up My Appearance' feature can be found on the settings button, under video settings. Just like any other beauty filter, it makes your appearance look smooth, and dewy for your calls.
Must have apps for your smartphone
So if you only use your smartphones to make and receive calls, you are underrating that gadget. But don't worry. I got you. Here are some of the must have apps for your phone.
I can't imagine we once lived in a time where smartphones were not a word in the vocabulary. These gadgets are life savers. Literally! Thanks to the numerous apps that have been created to make life easier( not that it gets any easier) for us. One time my single friend was flirting with her Google Assistant and I couldn't help but wonder the numerous things apps can do for us. Even counting the steps you take in a day. Poooof! Mind-blowing.
So if you only use your smartphones to make and receive calls, you are underrating that gadget. But don't worry. I got you. Here are some of the must have apps for your phone.
Money transfer apps
Of course we are starting with money. A dear part of our existence. This is a great opportunity to talk about Safaricom's M-PESA app which launched just recently. I never knew sim-toolkit was slow till I heard the features this app comes with. You can actually send money to multiple people at the same time. What a convenience right? That's not the best part. This app allows you to request money from people who owe you! The company probably saw memes Kenyans have been circulating about someone living their best life while they owe you money. And they delivered a solution.
Transport apps
You never know where life will decide you get stranded. It could be miles away from a bus station or it could be late in the night. And because you can't trust free rides, you'd rather pay that extra coin to get you to your destination safely. Bolt got you, Uber got you, Swvl, Wasili, Absolute should I continue? Even though you do not frequently use cabs having the app on your phone is important because you never know when you'll need it. Apart from cab rides, there are apps for booking flights and bus tickets. I was so relieved when I found out I do not actually have to go to a bus station to get a ticket for travel plans I have the following day. For these, there's Buupass, Booking.com, Mobiticket, and many others. Saves you money and time.
Social media apps
Networking, connecting, entertainment. Social media got us. These apps, have in the recent years made a huge breakthrough on the internet. I remember when the pandemic started, Houseparty app was the talk of the season. Someone became famous and is now making coins after her TikTok video went viral. Shoutout to Azziad! Twitter is there for your information updates, Instagram, to share pictures and ogle at those of others. WhatsApp for your daily chatting sprees. Snapchat, to make you look like some model on Vogue. Again, they are numerous.
Reading apps
Books. Books. Books. You do not have to buy them to read them, thanks to these apps that allow you to access a range of books. My current favourite app is Lightreader. What I love most about it is that is has African books. And that it is a hundred percent free. The best thing about having books on your phone is that you can access them anywhere and anytime. Other apps include, Anybooks, Wattpad, Kindle, Amazon, the list is endless.
Games and puzzles
For the days when you just want to jog your mind, there's an endless selection of games and puzzle apps on the web. This is a nice way to pass time while also developing your cognitive skills. Depending on what kind of game you want to play, I bet you will find it. My favourites are WordCross, Fruit burst and Jigsaw.
Featured image: Great Performers Academy
Best Budget Smartphones in 2021
Now, we know you are confused on which smartphone to purchase next especially with a tight budget. We have a vast array of them that you run out of options. Well, worry no more coz we got you!
You probably have an old phone that bugs you because it hangs a lot or the screen is a cobweb. Or, your phone found another owner in the streets of 'Kanairo' and now you are forced to use that 'Kabambe' phone that you always ridiculed because you think it is outdated.
Now, I know you are confused on which smartphone to purchase next especially with a tight budget. Smartphones nowadays are like Mtush clothes. We have a vast array of them that you run out of options. Well, worry no more coz I got you!
Here are five budget smartphones that are cheap and affordable in Kenya in 2021:
Redmi Note 10 series
Redmi phones have rocked the Kenyan market and it is safe to say Kenyans really love them.
The Chinese based brand owned by Xiaomi released the note 10 series earlier this year. The device comes with 3 versions
6gb Ram, 128gb Rom
4gb Ram, 64gb Rom
4gb Ram, 128gb Rom
Key specifications
Screen: 6.43-Inch 60Hz AMOLED Display (1080×2400)
SIM: Dual SIM 4G
CPU: Octa Core
Speed: 2.2GHz
Chipset: Qualcomm Snapdragon 678
Operating System: Android 11
Camera: 48 MP + 8MP + 2MP + 2MP back and 13 MP Front.
ID: Infrared & Fingerprint (side mounted)
Battery: Non-removable Li-Po 5000mAh Battery with 33W fast charge
With a budget between 15k-20k, you can purchase this mid-ranger giant smartphone without regrets
Samsung Galaxy A series
Samsung is a giant in the smartphone industry and the moment you mention Samsung, one will be quick to mention that it is an expensive device.
However, the South Korean multinational electronic company has extended it's wings to everyone and now they manufacture cheap and affordable smartphones; the Samsung galaxy A series being one of them.
The A series comes in different versions comprising of Galaxy A02, Galaxy A02s, Galaxy A12, Galaxy A22, Galaxy A22 5G, Galaxy A32, Galaxy A32 5G, Galaxy A42 5G, Galaxy A52, Galaxy A52 5G, and Galaxy A72.
Notable among these is the Samsung A32 which with a budget of between 20-25k you can comfortably purchase one and get value for you money.
Key features
Display: 6.4″ 90Hz Super AMOLED (1080×2400)
Memory: 128GB + 6GB RAM
Chipset: Mediatek Helio G80 (12 nm)
CPU: Octa-Core
OS: Android 11
Rear Camera: 64MP + 8MP + 5MP + 5MP
Front Camera: 20MP
Number of SIM: Dual-SIM
Battery: 5,000mAh with 15W od adoptive fast charging
If you are looking to use below 20k, check out the Samsung A12
Infinix Note 10 pro
For the longest time now, Infinix smartphones have been arguably the cheapest and most affordable devices.
Their latest flagship device, the Infinix Note 10 pro is a prove of this. With a budget of 20-24k you get yourself a device possessing the following incredible features:
6.95"FHD+ 90Hz Super Fluid LCD Display (1080 x 2460)
Memory: 128GB + 8GB RAM
CPU: Octa-core
Chipset: MediaTek Helio G95 Excellent Game Processor
OS Android 11
Front Camera: 16MP
Rear Camera: 64MP/AF+8MP+2MP+2MP with Quad-Flash Light
5000mAh Battery with 33W X-Charge
Normally it would cost you an arm and a leg to get a smartphone devices with such features. With the Note 10 pro, Infinix has definitely gone out their way to manufacture affordable smartphones!
Oppo A74
Oppo is also another smartphone device that hit the Kenyan market with a storm. Kenyans have slowly fallen in love with this gadget since it is affordable and possesses good features.
The Oppo A74 was launched in April this year and it comprises of the following features:
6.43 inches AMOLED Display 1080 x 2400 pixels
Chipset: Qualcomm SM6115 Snapdragon 662 (11 nm)
Android 11, Oppo ColorOS 11.1
Memory 6GB RAM+ 128 ROM
Back: Triple 48MP + 2MP + 2MP
Front: Single 16MP
5000mAh battery, Fast charging 33W
Colors: Prism Black, Midnight Blue
The price of Oppo A74 in Kenya ranges between Ksh.25,000-Ksh.27,000. If you are looking to use below 25,000 check out the A54 which retails between 20,000-23,000 which equally has some good features
Tecno Camon series
Tecno is another smartphone company that always comes through when one is looking to buy an affordable phone that has good specifications.
Their latest Camon series flagship device, the Camon 17 pro is one to check out if you are a Tecno lover and it will surely not disappoint.
Key Specifications
6.8″Dot-in, 90Hz FHD+ Display
Selfie Camera: 48MP Ultra Clear
Rear Camera: 64MP + 8MP + 2MP + 2MP
5000mAh, 25W Flash Charge
CPU: Mediatek Helio G95 (12nm)
Memory: 256GB + 8GB RAM
OS Android 11
With a budget of Ksh. 25,000, you will definitely be a new owner of this phone
Well, there you have it, these are the smartphones devices you should go for if you are looking for quality and affordability. Have fun selecting the best one!