4 things no one tells you about threesomes
Threesomes are not an easy feat as many may portray them.A lot of work goes in setting up a threesome where all three parties are satisfied. An unplanned or non-consensual threesome can really wreak havoc on relationships.
The impact a threesome has on a relationship will vary from one relationship to another and it could either build or break your relationship.
Below are tips that will help strengthen your relationship after willingly tagging a third party into your sheets.
IN CASE MISSED IT:Tips for a dating a player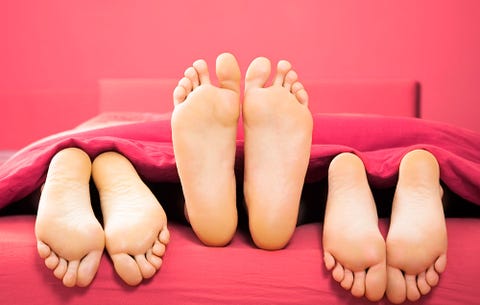 Evaluate if it is worth it
You just mentioned to your partner that you'd want to spice up your relationship and a prospective threesome is on your list. He or she might take it positively or just half-heartedly. The main query is if a threesome will put a strain on or ruin your relationship. Sit down as a couple and weigh your pros and cons. If the cons outweigh the pros then I recommend you drop the idea. When it comes to actualizing this fantasy, have clear intentions and regardless if you are adding a woman or a man sex experts urge you consider the downsides first before anything.
IN CASE YOU MISSED IT:From side chick to main chick
Set clear boundaries
You have already gotten a third partner for the threesome and you are all set up to actualizing it. Clear boundaries before the D-day are important for all three parties. These boundaries entail how far you all can go with the intimacy,what happens after sex and generally what's on and off the table. An example of a question that may arise may be- are you just limited to vaginal sex or is anal sex part of it all? Leaving things to flow organically can lead to a very awkward environment.The three of you should be on the same page. Communication is key especially now that there is an additional person. This will ensure that everyone is comfy and no one is left in the dark asking ,why would we do that?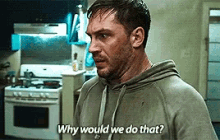 READ ALSO:8 signs that you are in a toxic relationship
Your close friend should not be your first pick
Having a close friend as a third party for a threesome is not advisable. Especially if the person is a mutual friend. No one can undo a threesome and having it one with a friend sure makes it weird  and very uncomfortable.If you don't want to ruin both your relationship and friendship, look for a random person who is interested in a threesome. If you decide to have it with a close friend then be sure to be extremely confident that it will withstand the strain that come with threesomes.
Know if jealousy will be a factor
In the quest for a threesome, couples can try and act like jealousy is not a big deal but deep down it's killing them. It's okay to be jealous as sometimes human beings can really be possessive, especially if they love someone. The big question is whether both of you will be able to handle this unavoidable feeling. Are you afraid that as soon as the threesome is over he'll love you less? Will you be worried that she will leave you for him? Only the both of you can answer these questions. At the end of the day let threesomes happen when both parties can and will handle it.
6 types of men you should avoid
Most of us ignore some unacceptable behaviors in some men with the hope that they will fade away. If you have already been in a toxic relationship,you will be more alert before getting into another on. Be on the look-out for and avoid the following types of men like a plague:
Abusive
An abusive guy will be overly hot-tempered and his actions very unpredictable. Ignoring this sign will mean getting into an abusive relationship. On the sidelines, observe how he handles arguments with his close friends and family. You can also notice how he treats strangers especially when he's ticked off. If he can get either physically or emotionally aggressive with strangers then he can definitely get aggressive with you as well. On instances where you have feel like you're being manipulated by a guy, cut ties with him completely. Manipulation in itself is a form of abuse.
IN CASE YOU MISSED IT:Getting over your ex
Lazy
This type of guy will never want to do anything and will make you clean his mess. In other extreme cases he will expect you to take up most, if not all, of his responsibilities. You will notice this behavior at the beginning of your relationship.Let this man step up as a man before getting into a serious relationship with him. Don't baby him in the genesis or else you'll play mama role for the rest of your lives.
Unambitious
The unambitious guy never has a plan and is, instead, always complaining. He will often talk up his game with zero results. Guys with this kind of trait are good at telling a woman what she wants to hear just to lure her into a relationship. To counter such men,challenge them to take up small challenges and see how they handle them. Trust me, you'll know if he's genuine sis!
Controlling
Don't be flattered if he's continuously keeping tabs on your every move. Him wanting to be with you every single day of the week is a cause for alarm. This is definitely not love but obsession. Before getting into a romantic commitment with such a man notice some of this red flags.He will dislike your friends and make you cancel your plans  to be with him.
READ ALSO:Things to consider before getting into a relationship
Needy
A guy who is  needy will never let you have alone time and will bombard your personal space with his insecurities. A needy guy is a kind of man who will be emotionally unstable and will always bring you down just so he can boost both his ego and esteem.
Liar
He is always unreliable because this type of man is the father of lame excuses and will never put in any effort. This type of guy will make promises that he can't keep and will lie to your face. This guy will not be honest with his personal issues and will close off some bits of his life from you. If he can't be candid with you then he's not worth the risk and sacrifice.
Tanasha Donna finally opens up on breakup with Diamond   
Tanasha Donna has today finally opened up about her breakup with Diamond Platnumz. The 24-year old mother of one took to Facebook to share with her fans the reasons behind the breakup with Tanzanian music star Diamond.
The radio presenter  and singer said she believed Diamond had changed his bad behaviours and had turned over a new leaf but that was not the case.
"I believed this man is a changed person but his actions proved me wrong," she said.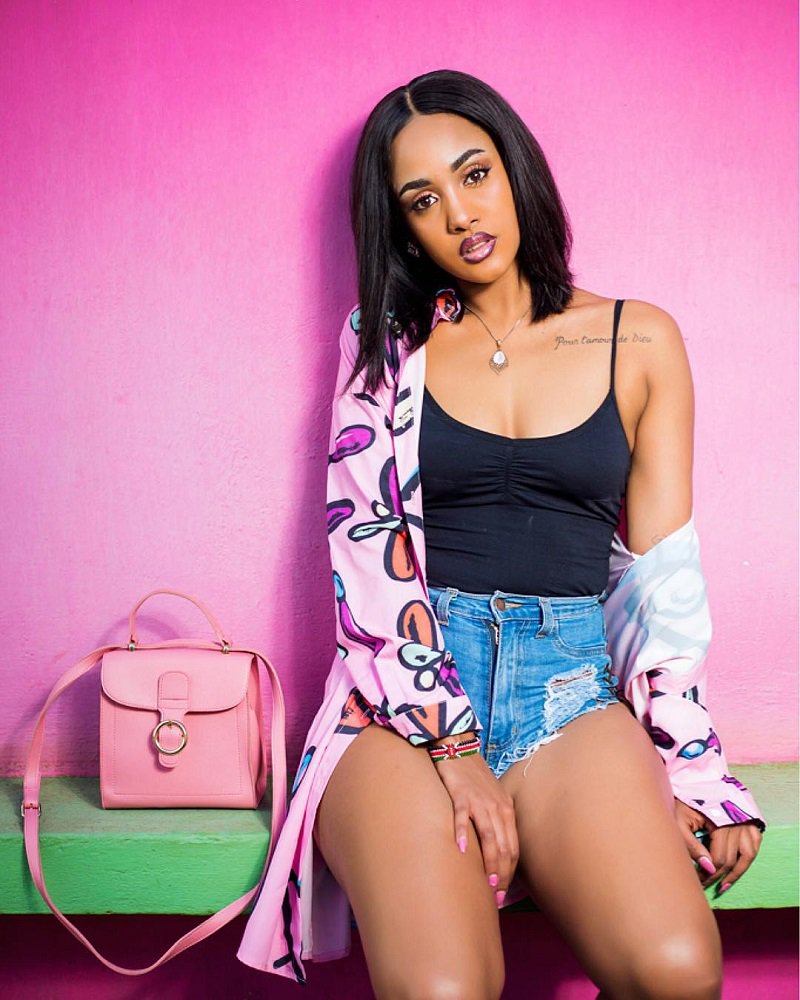 Tanasha recently unfollowed Diamond platnumz on Instagram and even went a step further to delete his pictures from her social media page. She expressed regret at having to part ways with Diamond's family as they had grown close during the duration of her relationship with Diamond.
"It's time for me to say goodbye to Dangote's family. Heartbreaking news, it's over between the two of us. God knows why this had to happen. Let me move on with my life," part of the post read.
Tanasha and Diamond have been dating for close to a year now and have a baby together. The couple seemed to be getting on well and had even released a song together called Gere before things went south.
Kenyans reaction to the breakup
Kenyans had mixed reactions as some rushed to console Tanasha while others admonished her. Hundreds of comments poured in from shocked fans who had been following the couple closely.
"That is not the end of the world, Zari did the same. She moved on too. Don't stress yourself. These days women are working harder and harder to live peaceful lives," Yuppamungu Damale commented.
"But you harakishad things even the ancestors were so annoyed. You knew very well Diamond was a community hubby and he is still the same," Clementine Toto said.
"Excellent Tanasha, it's really heartbreaking but life goes on. Let God deal with his karma. Only you, him and God knows what you have been going through," Abrah Swabrah said.
Things to consider before getting into a relationship
Relationships have been given such a bad rep with most young people getting into them for the wrong reasons. We look at six things everyone needs to consider before getting into a romantic relationship:
If you're over your ex
This should be your first question before getting into a romantic relationship. You never want to get into a new relationship with so much baggage from your former relationship holding you back. Heal, take your time and get over your previous relationship. It is absolutely okay to cut ties with your ex so as to start your healing process. Additionally, avoid getting into any romantic commitment right after a break-up. This situationship also known as rebound love will not last for long and will only makes things worse. Getting over your ex fully will not be easy but make sure to trust your instincts;you will know when you're ready.
READ ALSO: 8 signs that you're in a toxic relationship
If you're in it for the right reasons
Most people get into relationships thinking it's all roses and diamonds until an argument ensues and they flee. Knowing and understanding the motive behind getting into a relationship is paramount. Don't get into a long-term commitment because of money, looks, fame or other superficial factors. All these things are variables and can end at any time. Get into a relationship if you love your partner and are willing to stand by them through the good and the bad. I'm not telling you to get into a marriage scenario,no, I'm just showing you the intensity that is necessitated in a relationship.
If it is something long-term
If you're getting into a commitment for the fun of it or for the title, then you're not in it for the long-run. Sadly in today's society young people are dating for just a day and calling it quits thereafter. Long-term relationships are not founded on this but on love, patience and sacrifice. The maturity that comes with two people overcoming an argument and pushing through a relationship cannot be understated. Don't get into a relationship If you don't think you can be in it for a long time.
IN CASE YOU MISSED IT: Should you get back together with an ex ?
If you and your partner are compatible
Guys nowadays just meet up for a day or two and jump right into a relationship like they are hoping on a bus, easy right?. Get to know your partner, go on dates, know his or her family. It's never too late to save yourself from a bad relationship. This is aided by a individuals asking each other the hard questions on the first dates. Don't wait till day 786 while you're already in a relationship to know your deal breakers.  Don't shy away from getting every detail possible on these dates as they will give you a clear picture of what you want and what you can compromise on in a relationship.