Here's why Sauti Sol parted ways with manager
Sauti Sol and Marek's achievements
Sauti Sol is arguably the biggest Kenyan act to ever grace the music scene. With numerous accolades and achievements under their belt, they have taken the Kenyan scene by storm. Key to these feats has been their manager -Marek Fuchs. It was recently announced that Sauti Sol have parted ways with their manager which came as a shocker as the group and Marek are first and foremost friends before anything else. Speculation of disagreement hit the fan hard. This was further fueled by the announcement that the 'Sura yako' hit makers would now be managed by Africa Creative Agency.
New record deal
The foursome have been working on gaining exposure for their labels' artists which means they have been relatively quiet on the music front. Their last major drop as a group was Afrikan sauce, a 13 song LP. Since then,their manager's presence on the public scene has been limited. Rumors of a disagreement were quickly put to rest by Bien.
In a statement to a local daily, Bien rubbished any claims that there was a fall-out or that Marek had been fired. Bien said that due to the group's new deal with international talent agency- Africa Creative Agency – they had to adhere to certain rules such as dropping their manager. "…we're still working with him, he will just not be managing our day-to-day work anymore," Bien said. He also spoke fondly of the Czech-born manager, terming him as hardworking and they still loved him as a brother. He however pointed out it was time to grow as individuals.
Marek, nonetheless, is still in business with his company Africa Centric Entertainment. The company specializes in branding and entertainment.  It is likely that the boy band will still be working with Africa Centric for their branding needs.
ALSO READ; Eric Omondis parody of Sauti Sols new song is the best thing you'll see today
All Hail Hollywood's Newest Leo-Kate Duo
By Odhiambo Neema
Saoirse Ronan and Timothee Chalamet have taken the world by storm.
Saoirse, 26, is an Irish-American actress who has received various accolades, including a Golden Globe Award and nominations for four Academy Awards and five British Academy Film Awards. Throughout her career, she has had iconic roles such as Jo March in Greta Gerwig's   2019 adaptation of Little Women, Ellis in John Crowley's Brooklyn, Christine Lady Bird McPherson in, again, Greta Gerwig's phenomenal film Lady Bird and Mary Stuart in Josie Rourke's Mary Queen of Scots.
On the other hand, Chalamet, 24, is the immensely talented American actor who played the charming (but finally devastating) Theodore Laurie in Little Women, the weird Kyle Scheible in Lady Bird, the boy fighting a serious meth addiction in Felix Van Groeningen's touching Beautiful Boy and the king in David Michod's 2019 The King (No, seriously). Chalamet has also received numerous awards including a New York Film Critics Circle Award for Best Actor and an Independent Spirit Award for Best Male Lead.  Additionally, he has been nominated for an Academy Award, three British Academy Film Awards, two Golden Globe Awards and four Screen Actors Guild Awards.
Move over Jack and Rose!
The two have been involved in a handful of films together, and have been each other's love interests. In Little Women, he was Laurie, the neighbor who fell in love with Jo, but married Jo's sister, Amy (Yes we will never forgive the author, Louisa May Alcott). For Lady Bird, his character Kyle likes Lady Bird, but also doesn't? He's just weird. Very weird. In light of their appearances together, their swoon-worthy talent and on-screen chemistry, fans have started referring to them as "the Kate and Leo of our generation". Some have even gone as far as calling them "this generation's Cate Blanchett and Daniel Day-Lewis." That's partly a nod to their  incredible talent and partly a serious SMH to the fact that despite their palpable chemistry, they are only friends.
BUT GUYS. Cate Blanchett? Daniel  Day-Lewis? The future looks very much like Saoirse with a chance of Chalamet, what with both of them appearing TOGETHER, once again, in 2021's The French Dispatch?
C'est une vie en rose. Non?
A movie poster by the title Escape is doing rounds on social media and has caused a frenzy. The reason? It features three of the greatest criminal masterminds recent in movie/film history. Supposedly directed by 'Dilichi' the poster features Wentworth Miller aka Michael Scofield from Prison break, James Spader aka Reddington from The Blacklist and  Alvaro Morte  aka The Professor from Money Heist.

The film which is supposedly meant to air on streaming service Netflix has fans of the three shows excited over the three criminal geniuses working together. Naturally, the poster elicited reactions from thousands of social media users with many wondering why they have not spotted the seemingly action-filled movie on the platform until the poster's creator revealed the truth.
Much to the disappointment of many, the poster is not real and is merely wishful thinking by visual artist @TheDilichi on Twitter.
So I designed a cover for a film starring the top 3 escape artists on TV 🏛 pic.twitter.com/jwEklTN43g

— The Equaliser ⚖ (@TheDilichi) September 7, 2020
However,  fans are already rallying for the three actors to come together and work on a similar project.
Tanasha Donna finally opens up on breakup with Diamond   
Tanasha Donna has today finally opened up about her breakup with Diamond Platnumz. The 24-year old mother of one took to Facebook to share with her fans the reasons behind the breakup with Tanzanian music star Diamond.
The radio presenter  and singer said she believed Diamond had changed his bad behaviours and had turned over a new leaf but that was not the case.
"I believed this man is a changed person but his actions proved me wrong," she said.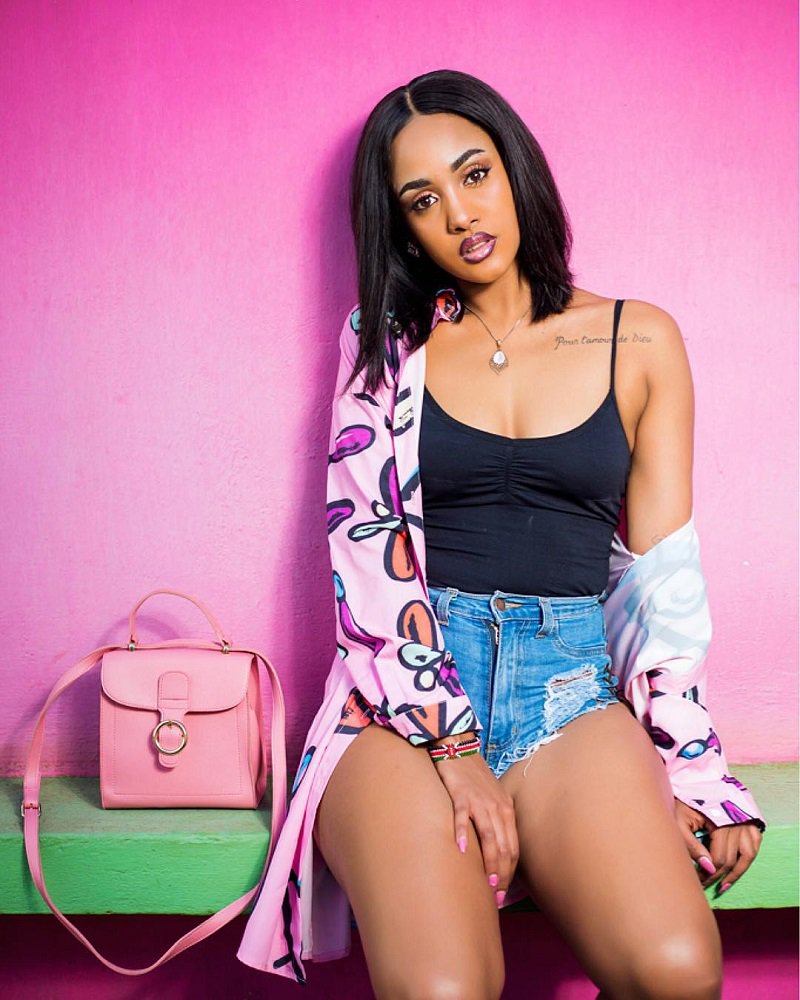 Tanasha recently unfollowed Diamond platnumz on Instagram and even went a step further to delete his pictures from her social media page. She expressed regret at having to part ways with Diamond's family as they had grown close during the duration of her relationship with Diamond.
"It's time for me to say goodbye to Dangote's family. Heartbreaking news, it's over between the two of us. God knows why this had to happen. Let me move on with my life," part of the post read.
Tanasha and Diamond have been dating for close to a year now and have a baby together. The couple seemed to be getting on well and had even released a song together called Gere before things went south.
Kenyans reaction to the breakup
Kenyans had mixed reactions as some rushed to console Tanasha while others admonished her. Hundreds of comments poured in from shocked fans who had been following the couple closely.
"That is not the end of the world, Zari did the same. She moved on too. Don't stress yourself. These days women are working harder and harder to live peaceful lives," Yuppamungu Damale commented.
"But you harakishad things even the ancestors were so annoyed. You knew very well Diamond was a community hubby and he is still the same," Clementine Toto said.
"Excellent Tanasha, it's really heartbreaking but life goes on. Let God deal with his karma. Only you, him and God knows what you have been going through," Abrah Swabrah said.